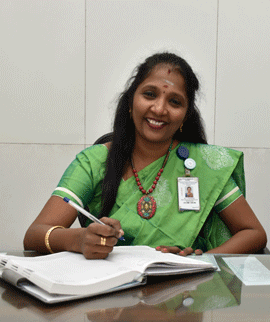 Dr. T. Logeswari
Head of the Department, BCA
---
Our College is one of the premier institutions, unique like a prism reflecting the manifold shades of learning and co-curricular activities. The department of Computer Science believes that this approach to teaching-learning, coupled with practical experience gained during Industrial Training in reputed organizations, equips our students to handle the challenges posed by the software industry.
We strongly encourage innovation in research, in teaching and in service to the profession, the local community and industry. Our faculty and students are constantly striving to excel and to advance the state of the art in Computer Science. The strength of the department is highly motivated students who understand the dynamics of the industry and upgrade their skills accordingly
The Department of Commerce has recorded consistent improvement in its academic, cultural, sports and placement. It offers a range of innovatively designed programs whose curriculum are constantly updated to meet the changing requirement of the industry and also to meet the needs of major stakeholders.
We believe that our students have been well accepted in their job profiles and have consistently exceeded expectations of the corporate world.
During study at the department, the students are encouraged to get hands-on experience in the corporate world through internship projects with reputed organizations.
We encourage our students to organize events such as Sargam, Commerce fest & to participate in Commerce events organized by various colleges and to get involved in activities of social relevance.
With all these inputs one finds our students hardworking, practical-oriented and effective in any work environment. We are confident that our current curriculum has enabled overall development of budding Commerce professionals to meet the expectations of the corporate world. The curriculum is taught by a team of distinguished faculty combining academic excellence and real world experience with dedication and commitment.
On behalf of the Department of Commerce I welcome you to be a part of our journey towards being a world class centre of excellence in education and training. We extend our best wishes for achieving greater success and setting new heights in the coming session. To be successful in life 'have ambitions and define your goals clearly', be regular to your classes and focus on your goals.