Women Social Entrepreneurs – Part II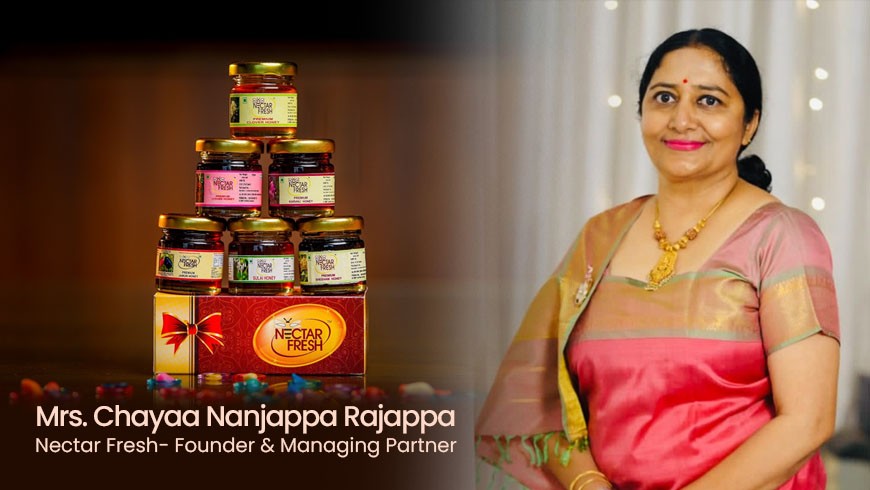 Women Social Entrepreneurs
 A series, introducing one woman every week for you to be inspired and empowered.
                     Part II
             Mrs. Chayaa Nanjappa Rajappa – Nectar Fresh- Founder & Managing Partner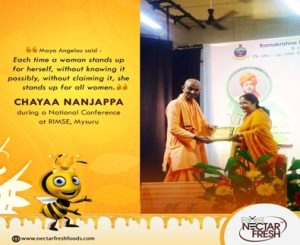 During adversity, some people crumble under pressure, some barely manage to bounce out and survive while the third lot are the ones who delve into the challenges to emerge as a Phoenix, not just resurrecting their life, but going a step ahead to mobilize and empower those around too.
Ms. Chaaya Nanjappa belongs to this third category of achievers. When she had finished class 12, her father passed away all of a sudden, succumbing to a cardiac arrest, leaving her shattered and responsible to fend for herself. There was a compulsion to move out from the protected environs of her rural home to pursue a career in Bangalore. Being a natural host, the Coorgi upbringing came in handy when she tried her hand at the hospitality industry. With no formal education, she impressed the interview board to become the Guest Relations Officer at The Chancery Hotel. During her tenure there, her contribution was greatly lauded. A year into this role, she was bitten by the entrepreneurial bug and went on a pursuit to see gaps in the hotel industry and how she can fill them. Being from Coorg, she was looking at the avenues in coffee, honey, and spices as spaces to explore.
How did the idea come up?
While researching her pet project, she remembered the farmers' struggle during the 1990s to market their products after their apiaries were ruined by an infection called Thai Sac.  She was inspired to rebuild that broken industry by becoming a part of it and uplifting them. After intense study, she realized there were globally and nationally reputed competitors already in this arena. She did not want to be left behind due to her lack of knowledge or expertise. So she enrolled in a course at the Central Bee and Research Training Institute (CBTRI) in Pune, in 2006-07, and equipped herself with the understanding and skills related to processing and preserving honey. And Voila!!! Nectar Fresh was born.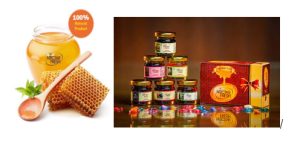 What is Nectar Fresh?
Starting small in a unit in Bangalore, she later moved to another one, before settling into a small-scale facility in the rural Mandya region of Karnataka. A business supported by the Khadi and Village board, today, it is one of India's major sources of honey. It has the ability to source and process 200 tons of raw honey per month. In an effort to empower local farmers, several agro-based food products of superior quality like fruit jams, coffee, tea, kinds of vinegar, spices, sauces, pickles, chia seeds, and flax seeds are also made in her factory. The products of the company are on par with the who's who in the domain. Backed by the hotel industry experience, she saw huge potential in smart portion-sized blister packs of honey, jams, and fruit preserves ideally used at buffet breakfasts in hotels. This opened up new avenues and a continuous flow of orders from most five-star hotels and many other hoteliers.
Her USP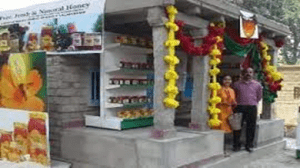 She is very vocal about her enterprise not being an NGO, but a profit-making business with its ethics intact. Her USP is mobilizing the farmers to take pride in their occupation, and see enough potential to live a dignified life, while collaborating with them to make a successful business venture.  She has steered to become one of the largest buyers of tribal honey in India. Her other aspiration is at restructuring non-performing units of rural women entrepreneurs into progressive units by providing technical know-how and knowledge on quality control. Eventually, they are looking at marketing their products in the Nectar Fresh brand both in the domestic and international markets. In commitment to her noble mission of empowering the economically deprived sections of society, Mrs. Chayaa Nanjappa has set up the 'Naman Institute' on the premises of Nectar Fresh to promote rural artisans — especially, rural women.
Promotional Strategy
The quality of her products speaks for themselves and her mantra is, if her products are healthy, nutritious, and tasty enough to be consumed by her own daughter, then it is of the quality suited to be retailed and exported. Being a media-shy couple, they do not even have a budget allocated for advertising and marketing. This also saves them time, effort, and money. – "What can take you places in business is ethics, and that's the only reason that Nectar Fresh is where it is today," she says.
Future projects
Looking ahead, the soft-spoken gritty businesswoman looks to move into the corporate gifting space. Further, she wishes to build India's largest tribal art retail chain, named Jayathu Bharatham. She is in the process of researching localities and products with the potential to scale up. Her idea is to support over 2,000 artisans across the country in the next year, in addition to the 1,000-plus farmers she supports through Nectar Fresh.
Awards and Recognitions
CNBC Women Entrepreneur Award 2014
Speaker at the Indian Science Congress on 'Implementing Technologies Acquired by R&D Labs'.
Has the honor of being invited to deliver and inaugurate major prestigious events and conferences by APO Japan, South Asian Women Developmental Forum, as well as Regional Economic Cooperation Conference on Afghanistan.
Chaired the session 'Inspiring Women' at the World Hindu Congress in Chicago.
Her brand Nectar Fresh has been the first brand in India to be using the 'Women Owned' logo of 'We Connect.'
The inspiration to write these series seems to have beautifully coincided with International Women's Day. It is such enterprising women from smaller towns who can be real-life examples for young adults to take cues from and walk their path. Educational institutions will do good to invite such guests to talk to their students, mentor them and encourage their innovation and creativity.
New Horizon College does justice to this, through various programs. The icing on the cake is Udaan, an entrepreneurial contest, where students come up with their own innovative ideas, right from conception to execution of the final product. The finalists are awarded funds to take their novelty forward to a fully realized business.
At the end of the day
'Only the actions of the just
Smell sweet and blossom in their dust' Death the Leveler by James Shirley