Aditi Gupta-Social Entrepreneur
Posted by

Categories

Blogs

Date

April 28, 2023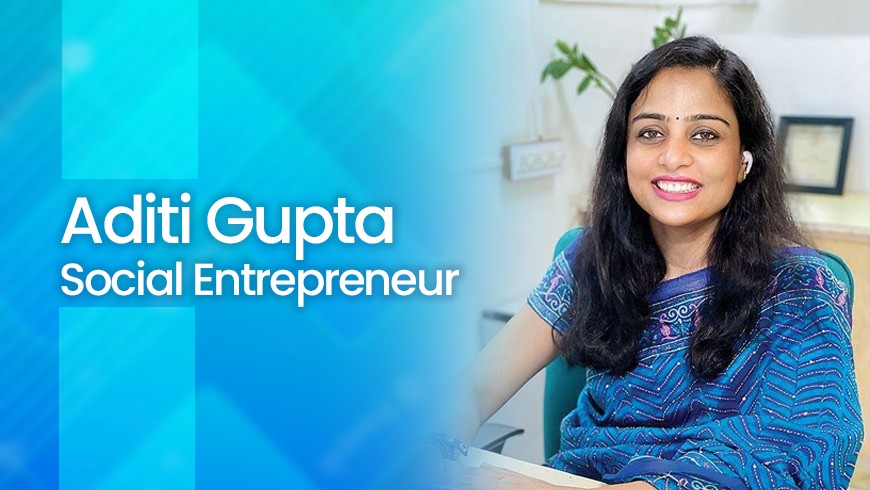 Have you watched the commercial 'Touch the Pickle' by Procter and Gamble for the sanitary napkin brand Whisper? It caused quite a stir and stole an award too at the 2015 Cannes Lions International Festival of Creativity bagging the Cannes Lions Grand Prix award on the inaugural Grand Prix in the Glass Lions category.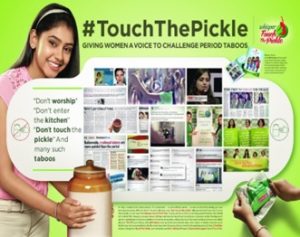 So what was so unique and intriguing about this advertisement?
Well, it highlighted the taboo and secrecy around menstruation. The typically held superstitions around puberty are appalling and shameful in today's technologically and scientifically progressive era that we are in. In most rural homes, and an equal number of urban places too, a woman, if she is menstruating, has a long list of don't do's. Starting from, not entering the kitchen and prayer hall, not touching the pickle jar, sleeping on the floor, and many more.
Indian women adhere to two different types of taboos. Absurd taboos like not washing one's hair, not touching the pickle, and sleeping in remote areas of the outhouse, where periods were seen as impure, a long-held superstition. These taboos have no relevance to menstruation today. The second set of rules—not exercising, not leaving the house, and not wearing white—began when women had to use cloth, rags, or even sand or ash as sanitary pads because there were no effective sanitary products available.
Though there are sex education classes initiated in schools and people are creating awareness and sensitivity around this issue, one woman Aditi Gupta is immensely successful in coming up with a comic book that details the menstruation process, what happens biologically, and how one can maneuver through these days without hampering their routine activities.
Who is Aditi Gupta?
"People are ashamed of talking about periods, and that's what we're trying to change. It has been our biggest win" Aditi Gupta.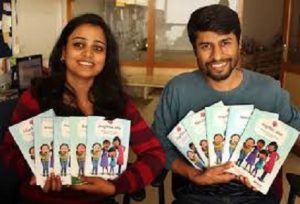 A young girl, from Garhwa, Jharkhand, India who was annoyed with the restrictions during her periods and even when as young as twelve years, raised her voice to question these practices. It irked her to be told off, treated indifferently, and not allowed access to the nook and corner of her own home.
Growing up, after engineering, she moved to pursue higher studies at the National School of Design where she met her cofounder and her partner now, Tuhin Patel. While talking about her determination to work in this space of creating awareness and building conversations around puberty and menstruation, Tuhin, not only encouraged her but also joined hands in the research and the concept of making it reader-friendly and fun. Thus was born the format of using storytelling and sequential art to create a fun way of learning and unlearning.
To begin with, she enrolled as a Ford Foundation research scholar and dived into research around the lack of knowledge in women and girls and how it impacted their lives. She gathered data from girls and doctors, which inspired her to create a comic book with three young girls and a doctor as its major protagonists.
Thus was born Menstrupedia in November 2012. The entire purpose of that comic was to increase understanding of menstruation and hygiene while also promoting awareness of it. The website titled Menstrupedia offers an accessible guide about menstruation, adolescence, and well-being. It also disproves a number of well-held myths concerning menstruation. The majority of digital media and websites consider her work to be very important in promoting awareness among the young girls and women of today.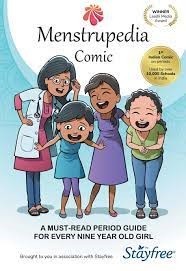 She had published these comics on a website that eventually urbanized into a ready-to-lend-a-hand platform that offered details on adolescence and sexual preferences for children and young adults. Over 70 schools in India have included this comic in their curriculum, and 6000 schools, 12 NGOs, including Protsahan, Munshi Jagannath Bhagwan Smriti Sansthan, Instincts, and Kanha, as well as 2,50,000 young women, have also used it. The comic books are printed locally and distributed outside of India in countries including Nepal, China, Hungary, Bangladesh, Uruguay, Zimbabwe, and in South America.
Looking for an easy way to prepare your son for adolescence?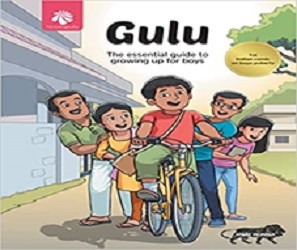 Gulu, another contribution from the house of Menstrupedia, is a humorous handbook on puberty for boys. This offers solutions to all the concerns a young boy may have regarding physical changes, feelings, consent, and bullying. Boys are sometimes too hesitant to talk about things like physical attraction, masturbation, addiction, and their periods, but these topics are also discussed in a way that is age- and culturally appropriate. The book gives lads the tools they need to tackle puberty's obstacles, including desire, addiction, and how to deal with bullies. It provides all of the answers regarding bodily changes, feelings, permission, and even periods. For the comfort of parents and instructors, great care has been made to ensure that the book's content is sensitive to cultural differences and contains accurate medical information that has undergone extensive research.
Social entrepreneurship
"For us, crowdfunding was a huge boon. Not every time do we get market support for sustainable business for menstruation or women's health awareness" Aditi Gupta.
The goal of social entrepreneurship is to solve various socioeconomic and civilizing issues. In today's civilization, this kind of upbeat transformation is crucial. The Sixth Economic Census, a statistical document created with the Ministry of Statistics and Programme Implementation's support, reveals that one in three growth-oriented entrepreneurs is a woman. About 14% of all business owners are women. Of the 58.5 million entrepreneurs worldwide, 8.05 million are women. Currently, women are in charge of a number of businesses, paving the way for future generations and exemplifying outstanding moral leadership.
Women entrepreneurs are operating profitable enterprises with a beneficial social and environmental impact all over the world, bringing about transformations that go well beyond their immediate surroundings. Menstrupedia is not an NGO. It is currently a partnership company, making it a for-profit business.
Moment of inspiration
The owners of the start-up were featured in Shark Tank India Season 1 Episode 6 in order to secure a deal.
With the help of various celebrities, including Shraddha Kapoor, Parineeti Chopra, Kalki Koechlin, Neha Dhupia, and Mandira Bedi, Menstrupedia has launched a number of projects with Whisper India, including the Touch the Pickle campaign.
Aditi is also a Global Shaper for the World Economic Forum, and in 2014, she made the Forbes India Under 30 list of achievers for her work dispelling myths about menstruation.
In 2015, she was recognized as one of the BBC's 100 most powerful women.
She has been invited to seven countries to present the model of her work in the area of menstruation health and awareness.
She also participated in the Breaking Taboo Panel at the Thomson Reuters Foundation Trust Women Conference in London.
She was recognized by Business Today with the BT Most Powerful Women Impact Awards for her efforts to influence society.
Aditi was recognized for her outstanding work in eradicating the taboos surrounding menstruation in India.
In order to raise knowledge about puberty, menstruation, and cleanliness, Menstrupedia has educated over 100,000 girls and trained more than 10,000 teachers.
Initiatives to keep the impact alive
Period program for Trainers: In this live, interactive webinar, educators may learn how to run period workshops for students.
Period program for Girls: This enjoyable program will help young girls learn how to address the periods issue and instill a body-positive attitude in them.
In today's internet information explosion, such simple offerings come in handy and provide basic input that is simple, fun, and easy to understand format. I suggest these comics may be stocked in all college libraries with free safe spaces for students to talk about it with their friends and elders without any sense of awkwardness and embarrassment.
It would be encouraging if schools/colleges understand the value of educating both boys and girls about the hormonal and boy changes that they undergo as young as 12 onwards and offer them a conducive environment to talk about it in a fun interactive way. In this context, it is worthy to mention that New Horizon College rises to the occasion by organizing frequent talks on health and acclimatizing with physiological changes, such that there is enough room for open discussions and safe exchanges.