10 Ways Networking can help you Find a Job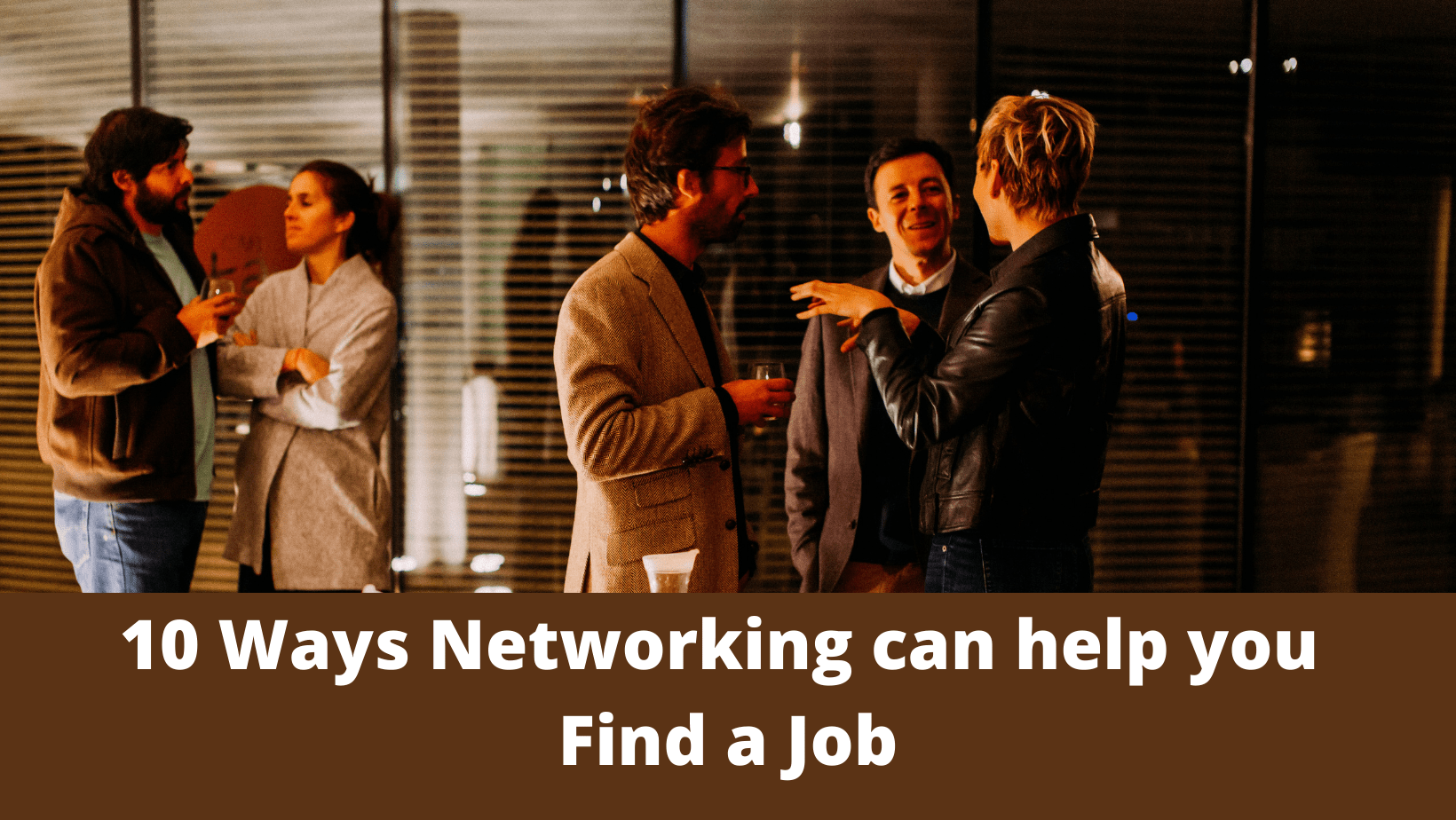 As college students we are often looking forward to working and being financially stable. However, our idea of a professional life can sometimes be jaded. We may get the A's, finish top of the class and crack an interview with a great company, but is that it? Does getting into your dream company bring a full stop to your career? Well, as kids we never really thought further than that and movies rarely give us more than the cliched "happily ever after."  
We can guarantee that SO many things can go wrong after the happily ever after. What if your current company's values do not align with you? What if there is no creative freedom? What if you want a change in career? What if you want to switch companies and find yourself a better position? Specifically, for those who stand up against toxic work cultures, is fearless enough to switch careers and do what their heart desires. The easiest way to find yourself something brand new is through Networking.  
What is Networking? 
Networking is to interact and build contacts with someone for professional or social reasons. Networking is the most successful, effective, and traditional practice in the professional sphere which is used among all hierarchies in an office environment.  
People are always looking to level up. Sometimes online job portals, advertisements and walk-ins may not do the job as well as a good old network can. An internal network, those consisting of peers, colleagues, and direct managers, may be helpful in many areas. However, creating a network beyond that, an external network, is necessary to increase your scope. Networking is also used to build a sense of community in each industry. People from the same space whether freshers or experienced employees/directors can have an open communication personally where they share knowledge, give advice, present opportunities to each other without hindrance. 
Why do we say networking is a better option? Because employers would hire someone, they know rather than hunting, which can take months. A person they have heard about, been referred, or worked with is easier to recruit and trust.  
Having understood how networking works and what it means, the next big question is how do we network to find ourselves a new opportunity? Read on. 
Expansion

 – primarily, if you do not already, you must expand your circle. Join the clubs, attend the parties to expand your professional groups. It must be tedious for some of us to step out of our comfort zones and interact but if an opportunity is what you want, then this is the way! Maintain contacts and stay connected with friends, neighbors, family, peers, colleagues & managers from old internships or offices. Build a community around yourself. This will help with finding new possibilities, gain feedback and advise on your on-going projects and future as well. Being in touch and building a rapport with each person is necessary after a certain age, you never know when someone calls to hook you up with a project that you have been trying to get to for months. Moreover, it is essential that your presence be noticed by people in your community/industry. 

 

Remote Connections

 – at a time that we are living in currently all physical contacts must be shifted to the virtual sphere. Likewise, for those starting out now or working for a year or so your contacts must be developed through online spheres as well. There are inestimable Facebook pages, job portal communities which share, discuss, and enlighten others about experiences, new opportunities and build a healthy bond that can change someone's career. These people can be from all around the world and may latch you up to new contacts that you can try your luck at. Yet again we must remind you that building a rapport, being honest and true to yourself is of immense importance while networking. 

 

Elevator Pitch

 – an elevator pitch is an introduction you give about yourself in under a minute to potential networks. Nobody wants to be bored with a monologue the first you meet them. Keep it crisp, keep it real and they may get impressed. An elevator pitch is a pitch you can give in the elevator while riding with someone to catch their attention before they get off. For your pitch include your skills, projects, and a bit of your background. Use this pitch at parties, gathering and events. College students can include their achievements in college in their elevator pitch too and include their internships. 

 
Attend Networking Events 

– this pointer has a separate space because we must tell you about all the excellent ways every community brings its members together. Job fairs, workshops, seminars, and events hosted by the leaders of your industry are the best places to strike up a conversation with someone influential or with a lot of contacts themselves. It can also be a suitable place to find friends with common interests. Educational institutes host workshops, MNCs host event, Agencies host job fairs and they are open to all. 

 

Informational Interview

 – unknown to many this is one of the easiest ways to communicate with someone to understand a job better. This is not a date or a real interview that leads to an offer letter. An Informational Interview is when you set up an interview to understand the requisites, demands or nature of the job from the person seated in front of you. This is a fantastic way to understand if the job you want to take up/switch to is interesting, pays well, apt for you and more. The person you take for the informational interview is usually a person in the level of hierarchy you will apply to. He/she can clear any doubts you have and can give an insight to the job. It is always imperative to know what you are heading into, even as a student that is just starting out. 

 

Advice 

– always ask for advice and not for a job, whether it is an interview or a dinner party with industry influencers. Put in some efforts into becoming the one that wants to better themselves instead of the kind that just wants the job. People you converse with must feel like you are genuine and have a knack for what you do irrespective of where you are now. Build a rapport, impress the ones around you by being one of a kind and genuine, that way they will refer you or think of you first when they are presented with an opportunity for your role. 

 

Direct contact 

– based on what most people have registered it is best if you contact companies directly and apply through their portal or HR representatives. They know you directly and can give you preference. Moreover, try to establish an honest communication with HR representatives. Even if you are not chosen for one role, they can call you back for a different opening they have for you in that company in a different branch. All you must do is ask them to keep you in mind. 

 

Social Media

 – digital media has never seen such a high and we hope it does not see a low any time soon because the number of new spaces to discuss work related queries are increasing by the day. It is a space for everyone to find jobs they are apt for, stay in touch with old colleagues or new contacts and to simply share inconveniences at their work places and find a new job. Every social media platform today witnesses large communities of workforce coming together. Facebook groups, Instagram profiles, job portals, etc. are all places one can find someone experienced to share knowledge with or give advice and find someone new as a button to educate and inspire. 

 
Alumni

 – when you graduate make sure to ask your teachers whether they know a senior who would want to hire you. The reason to this is that many Alumni come back to their college to hire freshers in their company. There is a high chance your teachers know someone who is looking to hire or have a list of places that you can apply to.

 

Follow up

 – last but not the least, do not always keep the conversation about work and your requirement. Also make sure to follow up with your contacts. They may get busy or not feel rushed about your life changing decisions. You can make the effort of dropping a text or calling them back again after a few days. 

 
This is your guide on how and where you can network, now all you have left to do is pick up the pace and get going. Join some clubs, pages and make some calls. Even while you are in college these calls will help you in future, they will impress those on the other end and your dedication is visible. Remember to also help those in need of jobs and new chances.  
At the end of it all we would like to remind you that nothing is more important than your comfort and career. So, crack that balance and make that break! 
New Horizon College Kasturinagar – NHCK, is one of the most premier institutes of Bangalore and is one of the top b-schools in India. With an array of courses, excellent staff, amazing institute-industry relationships we are one of the top 10 commerce colleges in Bangalore among the list of best commerce colleges in Karnataka. NHCK as one of the best management colleges in Bangalore, has fostered students and answered their questions at every step. 
If you are a student that aspires to make it big in the industry then NHCK should be your choice. We are one of the top 10 b-schools in Karnataka since we strive to ignite the spark of knowledge among students and encourage inquisitive nature while entertaining healthy teacher-student relationships. Only the top administrative colleges in Bangalore guide you, educate you and give you the exposure and practical knowledge to make an entry into the industry. Your list of commerce colleges in Bangalore must contain only the names that are considered the best commerce colleges. We wish you all the best! Hurry and fill in the form for Admissions in one of the top 10 colleges in Bangalore.