REPORT ON CONSTITUTION DAY 2021
REPORT ON CONSTITUTION DAY 2021
PROGRAMME CONDUCTED TO SPREAD KNOWLEDGE ABOUT OUR INDIAN CONSTITUTION
"Lost rights are never regained by appeals to the conscience of the usurper, but the relentless struggle. Goats are used for sacrificial offerings not lions".
Dr BR AMBEDKAR
The Constituent Assembly officially accepted the Indian Constitution on November 26, 1949. The Chairman of the Drafting Committee, Mr. B.R. Ambedkar, presented it to President Dr. Rajendra Prasad on November 25, 1949, however, it was adopted on November 26, 1949. Though the constitution took effect on January 26, 1950 (Republic Day), Constitution Day is celebrated on this particular day that is on November 26th to commemorate its adoption.
In the year 2015, Prime Minister Narendra Modi'sNational Democratic Alliance (NDA) the government wanted to commemorate Dr. B.R. Ambedkar's, 125th birth anniversary as a big occasion. Following that, as part of the year-long commemoration, a number of activities were held across the country.
The Prime Minister declared November 26th as Constitution Day during one of these events in Mumbai in October, when laying the foundation stone for the Ambedkar memorial. As a result, on November 19th, the government issued an official gazette recognizing November 26th as Constitution Day of India.
Celebration Of 'The First National Constitution Day'many government departments and schools across India commemorated India's first constitution day. The Department of Education had issued directions to schools requiring youngsters to study the preamble of the Constitution and the schools held many competitions with the topic India's Constitution.
The NSS unit of NHCK celebrated this day that is 26th November 2021Constitution Day with a small gesture of respect to the father of Indian Constitution Dr BR Ambedkar.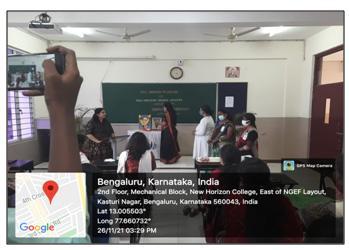 Keeping in mind the young India and the idea of enlightening the youngsters with the history of the Constitution. Our college celebrated The Constitution Day gathering the faculty and few of the NSS volunteer in order to spread knowledge and importance of our Indian constitution. This celebration led by Dr Sunitha Hangal Director – NHCK, Mrs.Sunitha HOD of Commerce department and Principle, and Sir Girish N the coordinator of NSS who has willingly stood forward to lead the NSS student volunteers.
Few of our college volunteers held together to success this program. This program was held during evening between 3'o clock to 4'o clock amid the pandemic. The program was started with speech regarding the importance of the Indian Constitution. This program brought awareness between both the NSS volunteers and the teaching faculty. This program was really helpful in gaining knowledge and creating an undeniable idea of the Indian constitution. However good a constitution maybe, if those who are implementing it are not good, it will prove to be bad. However bad a constitution maybe, if those implementing it are