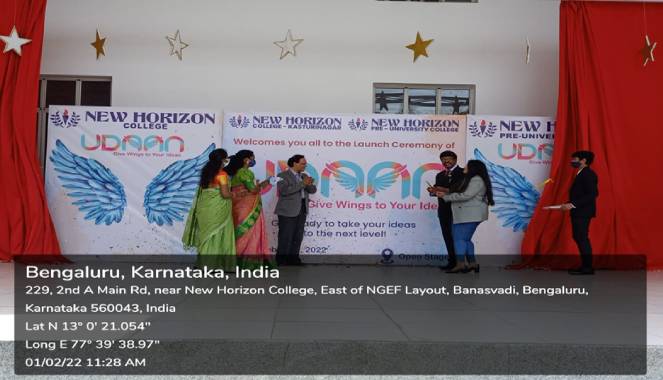 UDAAN-Give wings to your Ideas.
Udaan is the vision of our Hon'ble Chairman Dr. Mohan Manghnani for all the students of New Horizon to make them independent and self reliant in all sense. Udaan also signifies support to Atmanirbhar Bharat Abhiyaan – The Self-reliant India campaign, which is the vision of new India envisaged by the Hon'ble Prime Minister Shri Narendra Modiji.
Udaan is the belief that youth are passionate, thoughtful, committed, and full of innovative ideas. Proper mentorship and guidance will help to give life to every idea and can be converted into useful business resource.
Objective:
To provide a platform to students to come up with innovative ideas
Support students in converting their ideas into viable business model
New Horizon Udaan event was launched on 1st February 2022 and the program started with a welcome address by Ms. Sangeetha J, who extended a warm greetings and welcomed the Dignitaries and the august gathering.
Launch of UDAAN-2022 by unveiling of the banner
A motivational video from the desk of Chairman was shown to the audience in which the played on the screen.
The speaker for the event Mr.Uday Birje Co-founder ThinkStreet Technologies addressed the gathering and motivated students towards becoming entrepreneurs and shared his experiences of entrepreneurial journey. Also Sir mentioned that the need of the hour is more and more job creators rather than job seekers. The speaker stated the process of initiating the business and ideas and how to make it successful career in entrepreneurship.